VESA har annonceret, at DisplayPort 2.0 video-signaler nu kan sendes over USB4. Båndbredden er endnu højere end på HDMI 2.1 og det vil muliggøre op til 16K-opløsning.
DisplayPort 2.0 over USB4
DisplayPort 2.0 blev
præsenteret i midten af 2019
. Den nye forbindelsesstandard kan levere en effektiv video-båndbredde på op til 77,4 Gbps. Det er tre gange højere end den tidligere version af DisplayPort samt markant højere end
HDMI 2.1's 48 Gbps
.
Ved at integrere DisplayPort 2.0 signal-systemet i USB4 (med USB Type-C stik) håber VESA på at kunne ride på ryggen af USB's store popularitet. Organisationen forklarer, at DisplayPort 2.0 over USB4 understøtter samtlige video-funktioner i standarden, herunder 8K og 16K, HDR (High Dynamic Range) og HFR (High Frame Rate).
-
"DisplayPort 2.0 delivers a maximum payload of 77.37 Gbps across four lanes (up to 19.34 Gbps per lane) -- supporting ultra-high display performance configurations such as an 8K (7680x4320) display with 60 Hz refresh rate with full-color 30 bpp 4:4:4 HDR resolution uncompressed, and 16K (15360x8460) 60 Hz display with 30 bpp 4:4:4 HDR resolution with compression. With the release of DisplayPort Alt Mode 2.0, all of these high-performance video capabilities are now available to the USB ecosystem,"
sagde VESA.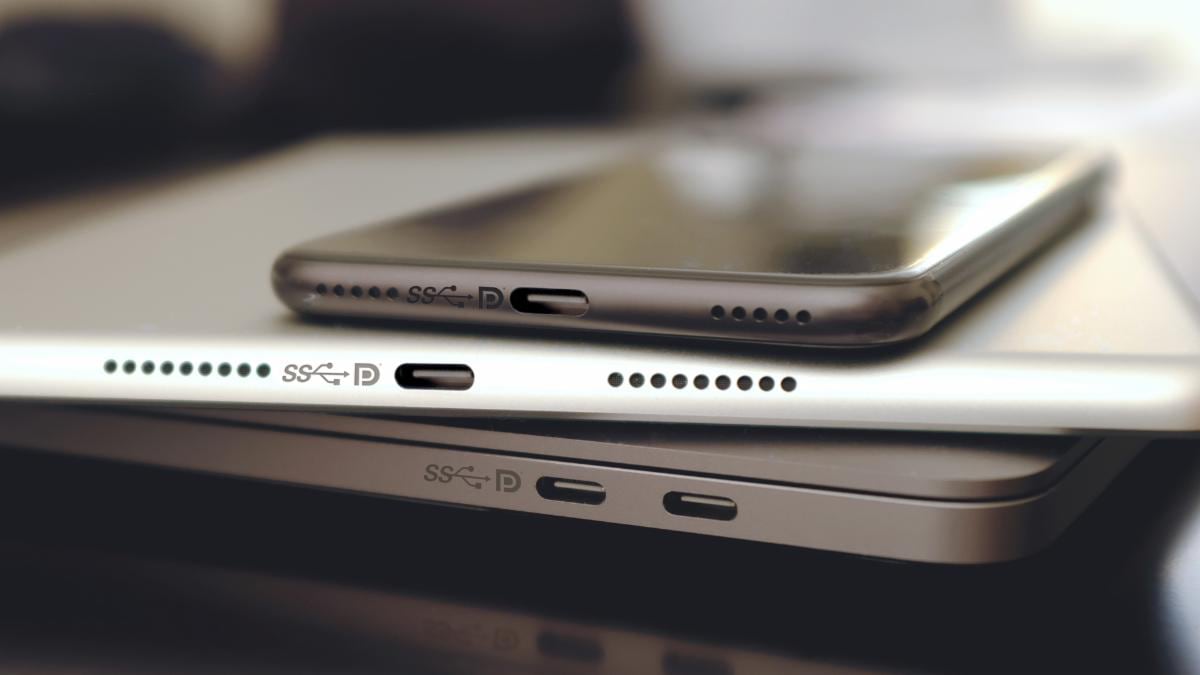 DisplayPort-logo på en USB Type-C enhed angiver, at den er certificeret​
DisplayPort er et alternativ til HDMI, der er målrettet TV-økosystemet, hvorimod DisplayPort i større grad er optimeret til PC-økosystemet. Det kan naturligvis ændre sig, men på nuværende tidspunkt er den ingen TV-skærme på forbrugermarkedet med nogen form for DisplayPort.
-
"This major undertaking, which was several years in the making, could only be made possible through the combined efforts of VESA and the USB-IF. Through our latest collaboration with the USB-IF, VESA is now taking care of everything related to high-performance displays over USB-C, whether through a native DisplayPort or USB-C connector, or through tunneling of DisplayPort over the native USB4 interface. DisplayPort is also tunneled through the Thunderbolt interface, making it the de facto video standard across PC and mobile displays,"
sagde Craig Wiley, bestyrelsesmedlem hos VESA og leder af DisplayPort Alt Mode gruppen.
VESA forventer, at de første produkter med DisplayPort 2.0 via USB4 vil komme på markedet i 2021.
DisplayPort 2.0 i hovedtræk
DisplayPort 2.0 enables up to 3X increase in video bandwidth performance (max payload of 77.37 Gbps)
- Maximum link rate to up to 20 Gbps/lane and features more efficient 128b/132b channel coding, delivering a maximum payload of 77.37 Gbps
- First standard to support 8K resolution (7680 x 4320) at 60 Hz refresh rate with full-color 4:4:4 resolution, including with 30 bits per pixel (bpp) for HDR-10 support

Beyond 8K resolutions: Example Configurations:
- Single display resolutionsOne 16K (15360×8460) display @60Hz and 30 bpp 4:4:4 HDR (with DSC)
One 10K (10240×4320) display @60Hz and 24 bpp 4:4:4 (no compression)
- Dual display resolutionsTwo 8K (7680×4320) displays @120Hz and 30 bpp 4:4:4 HDR (with DSC)
Two 4K (3840×2160) displays @144Hz and 24 bpp 4:4:4 (no compression)
- Triple display resolutionsThree 10K (10240×4320) displays @60Hz and 30 bpp 4:4:4 HDR (with DSC)
Three 4K (3840×2160) displays @90Hz and 30 bpp 4:4:4 HDR (no compression)
- When using only two lanes on the USB-C connector via DP Alt Mode to allow for simultaneous SuperSpeed USB data and video, DP 2.0 can enable such configurations as:Three 4K (3840×2160) displays @144Hz and 30 bpp 4:4:4 HDR (with DSC)
Two 4Kx4K (4096×4096) displays (for AR/VR headsets) @120Hz and 30 bpp 4:4:4 HDR (with DSC)
Three QHD (2560×1440) @120Hz and 24 bpp 4:4:4 (no compression)
One 8K (7680×4320) display @30Hz and 30 bpp 4:4:4 HDR (no compression)

Higher refresh rates and high dynamic range (HDR) support at higher resolutions

Improved support for multiple display configurations

Improved user experience with augmented/virtual reality (AR/VR) displays, including support for 4K-and-beyond VR resolutions.

Advantages of DP 2.0 are enjoyed across both the native DP connector as well as the USB Type-C connector

Support for visually lossless Display Stream Compression (DSC) with Forward Error Correction (FEC), HDR metadata transport, and other advanced features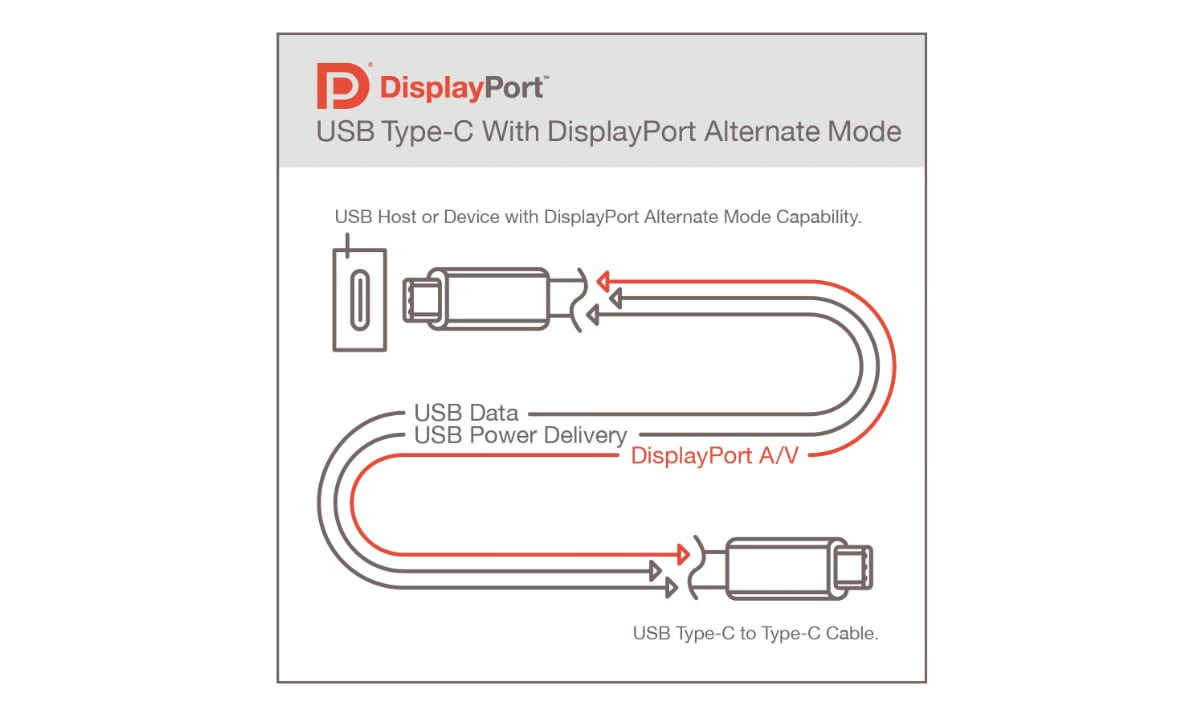 -
Kilde: VESA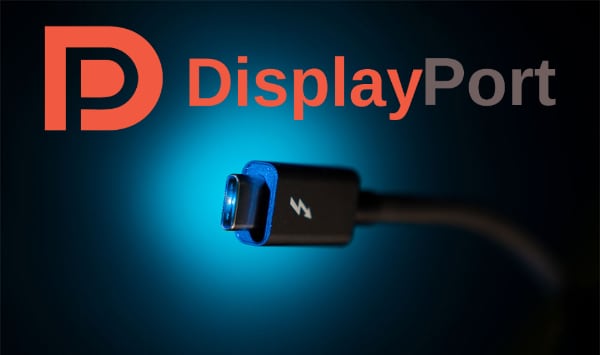 Højere båndbredde end HDMI 2.1. Første enheder forventes klar i 2021
www.flatpanels.dk